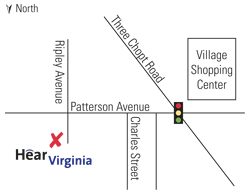 6722 Patterson Avenue, Suite A
Richmond, Virginia 23226
Visit us at our new location starting November 15th!
We are very excited about this move to our new and improved location which is only about two miles southwest of the West Broad Street location. Our new office will allow us to serve you in a more comfortable yet professional atmosphere.
YOUR HEARING MATTERS! LET'S TALK.
6722 Patterson Avenue, Suite A
Richmond, Virginia 23226
804-477-1630
Office hours:
Monday through Friday: 8:30am – 4:00pm
Open Tuesday evenings by appointment only
Hear Virginia
Hear Virginia
6722 Patterson Avenue, Suite A
Richmond, Virginia 23226